Servicing the scrap processing and demolition industry since 1888.
Mayer Pollock Steel Corporation was founded in 1888. Since inception, the company has been owned and managed by five generations of the Pollock family. We have a well established industry presence and an excellent reputation within the ferrous and non-ferrous industries serving a variety of steel mills and foundries. In addition, our operations include industrial demolition and dismantling, rigging, hauling, and the sale of used equipment.
The demolition division and corporate headquarters are located in Pottstown, PA. Mayer Pollock Steel Corporation operates four subdivisions centered around customer satisfaction and quality service. The Ferrous, Non-ferrous and Brokerage divisions focus mainly on purchasing, processing and selling scrap materials. The highly skilled and experienced management teams, supported by a full fleet of specialty equipment, are prepared to safely handle all demolition projects of any size anywhere in the United States.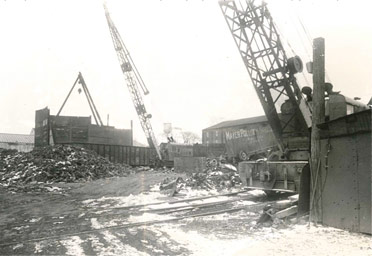 ---
Contact us now for current scrap prices or an estimate on your project.