Servicing the scrap processing and demolition industry since 1888.
HISTORY AND EXPERIENCE
Mayer Pollock Steel Corporation (MPSC) was founded by the Pollock family in 1888. Since it's inception, the company has been owned and managed by the Pollock family, who now is in their fifth generation. Unsurpassed experience and deep-seeded pride are instilled in the owners and the personnel, many of whom have been with the company for decades.
From their corporate office in Pottstown, PA, they service multiple industries and projects of various size. Their well-established industry presence and excellent reputation within the ferrous and nonferrous scrap metal markets is strengthened by their solid relationships with multiple international steel mills and foundries. Their operations include industrial demolition and dismantling, rigging, hauling, and the sale of used processed equipment, in addition to reclaiming ferrous and non-ferrous metals.
MPSC's major divisions all emanate from, and mirror the company's core philosophies and business beliefs. Safety, quality control, customer service, customer satisfaction and maximum extraction of materials and value are paramount.
DEMOLITION AND DISMANTLING DIVISION
Our Demolition and Dismantling division plans and executes the demolition and removal of any size facility, shuttered or operating. MPSC has worked in smaller shuttered units located within operating process plants, and in very large shuttered facilities realizing over 30,000 tons of recycled ferrous and non-ferrous metals. Utilizing their highly skilled and experienced management and supervisory teams, specialty equipment, site-specific safety plans, including abatement and environmental remediation management, MPSC completes every project on time and on Budget.
QUALITY CONTROL
MPSC understands quality is another critical element of every project. Every worker on a MPSC job is briefed and familiarized with drawings, specifications and all technical aspects of the project. This thorough communication and understanding of each step in the process ensures high standards of craftsmanship and step-by-step concise project reporting.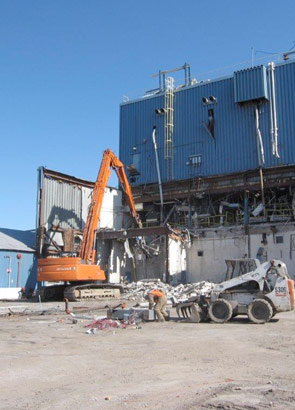 PROJECT MANAGEMENT
Our staff of experienced managers and estimators are specifically trained and highly qualified for the requirements of demolition, dismantling, and the management of asbestos abatement and environmental remediation.
MAYER POLLOCK HIGHLIGHTS
Combined industry experience of key personnel is over 125 years
Leader in the demolition and scrap processing industry for over 125 years
Large fleet of specialized equipment is owned by MPSC and easily mobilized
Broad coverage area: Northeast, Southeast, Gulf Coast, Midwest
---
Contact us now for current scrap prices or an estimate on your project.